New Touton logistics platform in San Pedro, Ivory Coast
Lien vers la version française
25 000 m² is the surface area of the new logistics platform that the Touton group inaugurated on 22 February 2023 in San Pedro, Côte D'Ivoire.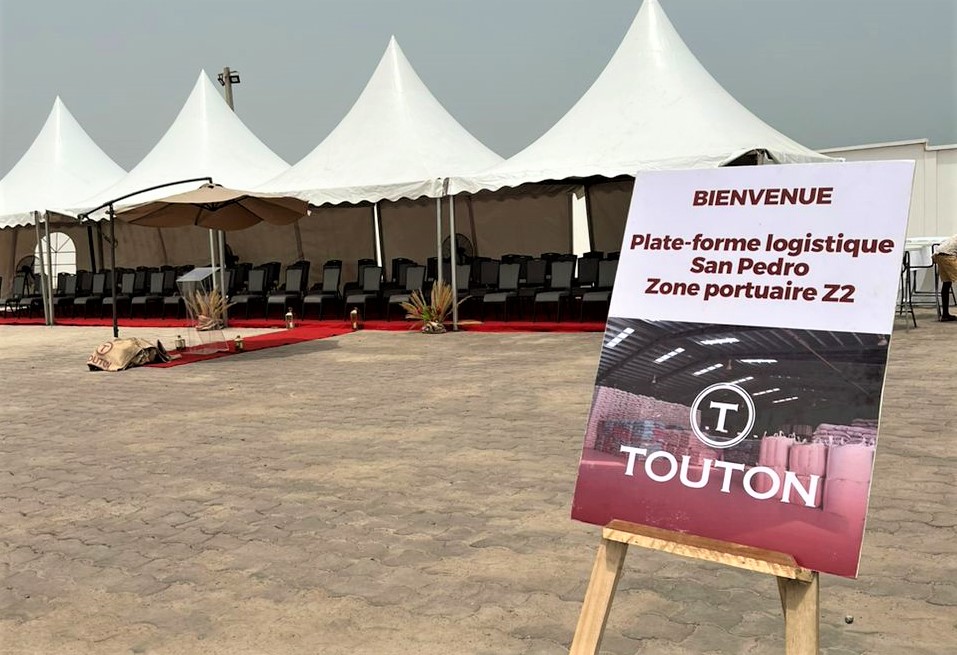 The facilities include 10 000 m² of storage space, representing approximately 10 000 metric tonnes of cocoa, as well as 8000 m² for stuffing - i.e., loading the goods into containers - including a "bulk carrier hopper". This new pole is completed by a 5000 m² container storage platform, a weighbridge, and office space.
Further vertical integration of the supply chain reinforces our operational agility and risk management. It allows us to offer greater assurance and service excellence in the delivery of tropical products to our customers, the global processors of cocoa, coffee, and ingredients around the world.
Such a project involved a collaborative approach with several types of partners including the NSIA Bank, GCCI Construction, BV Controller, and the local authorities such as the Autonomous Port of San Pedro and CEPICI "Centre for promotional investment in Ivory Coast". With the creation of about 10 full-time jobs and up to 100 day-labourer positions, the platform also contributes to the economic development of the port of San Pedro. As the second largest port in Côte d'Ivoire, San Pedro is one of the most important seaports in West Africa due to its key role in the global cocoa trade.
The inauguration of the site on 22 February brought together around a hundred people, including dignitaries and representatives of the project partners. It was a friendly moment and an opportunity to visit the infrastructures and thank everyone for their engagement, allowing every stakeholder to share their vision and expectations for this new platform.
Olivier Lieutard, Deputy Managing Director of the Touton Group, said:
"This new logistics platform allows us to strengthen our supply chain management activities in Côte d'Ivoire and to participate in the development of the port of San Pedro. The facilities spread across 25 000 m² were built to strengthen our warehousing and handling capacities, and to improve the flexibility of our cocoa or Ivorian coffee supply operations, a real asset in an increasingly uncertain international context."