New Touton Sustainability report 2021-22 released !
"Managing risks is what we do, day in and day out. This year again, flexibility was of the essence. We dealt with the pandemic, freight, and geopolitical crisis. We also accelerated our investments within producing countries and into the sustainable and digital management of our supply chains. In the face of constant uncertainty, we must go beyond being simply good traders of cocoa, coffee, vanilla, and ingredients." Said Patrick de Boussac, CEO of the Touton Group.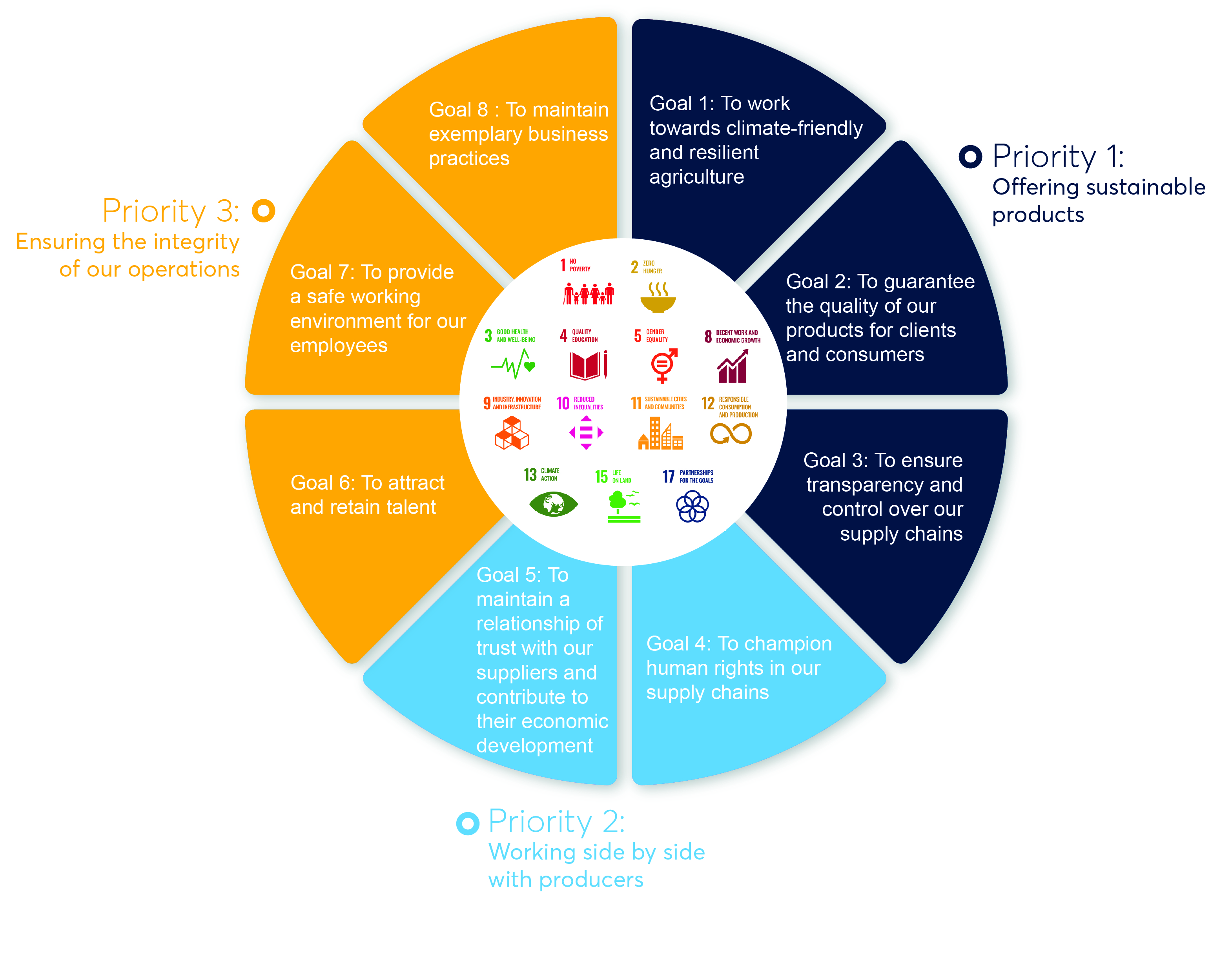 The 2021-2022 Sustainability report highlights the three main priorities to guide the group's overall Corporate Social Responsibility (CSR):
Offering sustainable products
Working side by side with producers
Ensuring the integrity of our operations
Priorities are broken down into several goals, each supported by a set of key indicators to track progress and maintain transparency.
"To keep building the sustainable trust relationship with producers and clients, our CSR approach continues to focus on people. From producers to employees, we are nurturing and building on their expertise to champion exemplary business practices. We are strengthening our data systems and innovative sustainability programmes to better deliver on our Human Rights and United Nations engagements, as well as our due diligence expectations." added Joseph Larrose, Deputy Managing Director.
Major achievements from the year 2021-22 highlighted in the report:
Carbon: Completed a comprehensive carbon footprint assessment to define Touton's roadmap, compatible with the 1.5 degrees Paris trajectory; embedding digital mapping and agroforestry into every supply chain
Living Income: setting up traceable and certified multicommodity supply chains to facilitate income diversification; collaborating with youth and startups to offer new economic and financial opportunities as well as professional farming services
Sustainable products: recording constant progression for sustainable volume sourcing thanks to a stronger collaboration with all supply chain actors and significant efforts to ensure products' quality (ISO 9001, FSCC 22000, etc.)
Talent nurturing: employees' protection and development through training and empowerment, based on responsibility and internal staff mobility
Exemplary business practices: strengthening the reliability of our value chains by training and monitoring employees and suppliers for responsible practices and ethics.
To learn more about Touton's sustainability approach and achievements in 2021-2022, read the full report: