Newly RA certified Touton Uganda coffee supply chain
Touton Uganda, one of the country's leading green coffee exporters, has become the first in all of East and Southern Africa to earn the Rainforest Alliance certification against their new 2020 standard. In this article, we explore the motivation and certification journey behind this milestone achievement toward building a sustainable supply chain in Kasese.
Kasese sustainability lab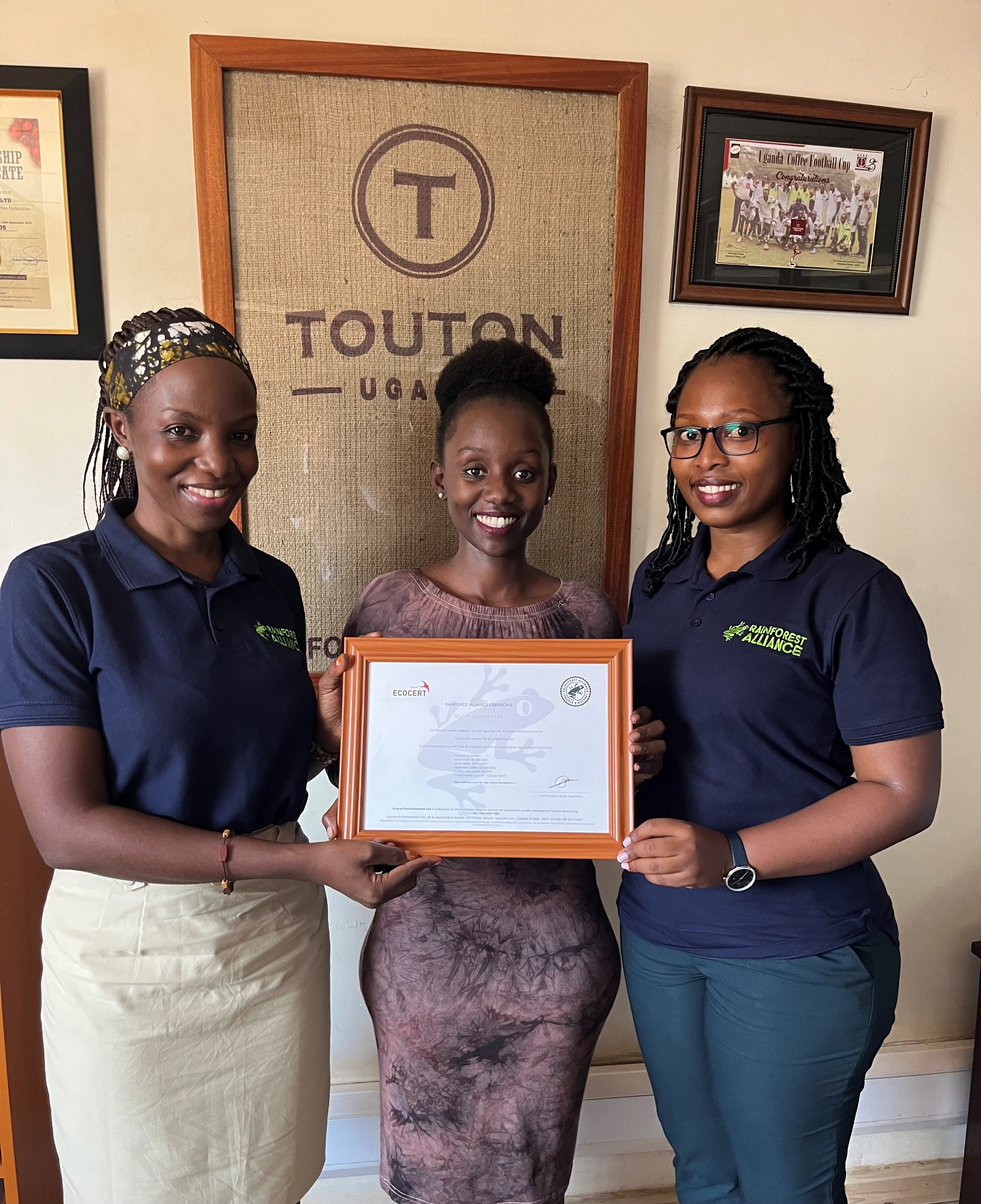 Since 2015, We have been growing our activity to become a key player in Uganda. Now the 4th largest coffee exporter in the country, we keep expanding and diversifying our offer with other crops, turning Touton Uganda into a regional platform for East African multicommodity trading. Touton Uganda has established its direct sourcing and sustainability hub upcountry in Kasese, with the objective to build a sustainable and resilient direct supply chain for coffee, cocoa, vanilla, and more.
Certification as a key building block for farmers' livelihood
Obtaining this certification is one of the essential building blocks we are setting up to boost the economic resilience of coffee-producing communities. Coffee production and local farmers' livelihood in Kasese are increasingly affected by various factors, ranging from low productivity to post-harvest losses or climate change-induced droughts and rainfalls. Touton has decided to support the development of a Rainforest Alliance (RA) certified natural arabica coffee (Drugar) supply chain of over 5000 farmers in the region.
Certification is one of the founding elements to build a viable virtuous supply chain. Farmers can improve their revenues by producing and selling quality traceable and certified coffee that is increasingly attractive to international clients, which in turn generates a sustainability differential. Furthermore, the new RA standard not only reinforces traceability requirements against deforestation, but it also pushes further the protection of nature and biodiversity. Our training programs already support coffee farmers to adopt sustainable farming practices, including techniques based on regenerative agriculture, to lead toward a more stable supply of sustainable coffee.
This first year, we have focused on the initial target to certify coffee producers. The next audit will allow us to expand from our acquired RA expertise to certify other Kasese grown crops including cocoa, bird's eye chili, and vanilla. Investigating crop diversification strategies is another major aspect of Touton's plan to improve growing families' livelihood. Our activities also focus on creating opportunities for youth and employment through agri-preneur models. These young entrepreneurs are trained to deliver agricultural services such as a technical extension or professional farm maintenance (pruning, fertilisers, etc.).
A grounded, collaborative, and digitalised certification journey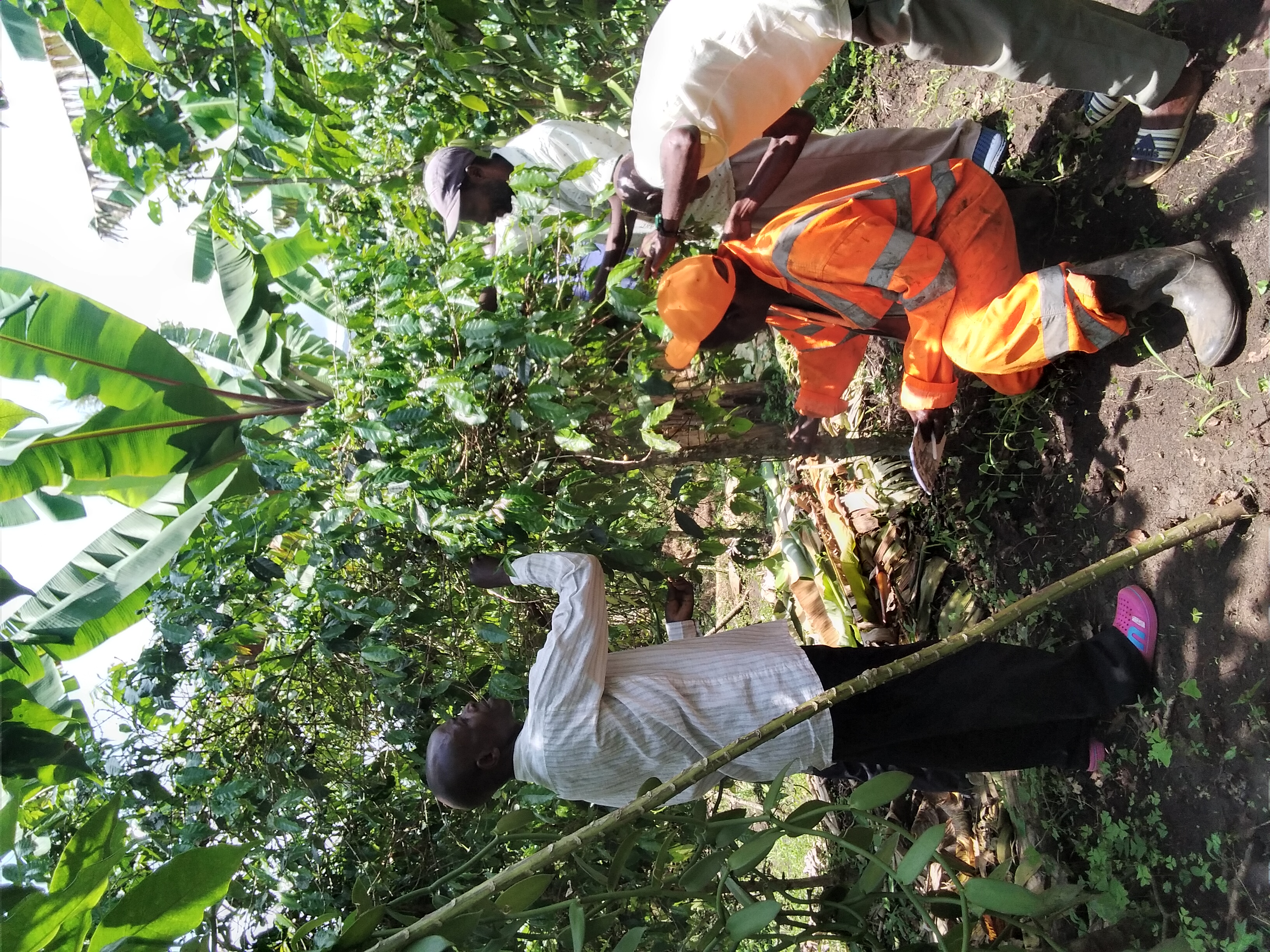 The complete certification journey, from the registration with the Rainforest Alliance Certification Platform to the certification license stage, lasted around 8 months. The process represented a steep, yet productive and positive learning curve, as we embarked on the new RA standard requirements whilst welcoming our new sustainability leads in Kasese. It was the combination of three factors that made it a success: a truly collaborative approach, the effective understanding and management of the local supply reality, and the application of new technology.
Our collaborative approach gathered everyone's expertise and best efforts to translate the new certification requirements into actionable items that made the audit successful, despite the challenges brought by the COVID-19 pandemic. All stakeholders played a key part, starting from the engagement of no less than 110 producing organisations and 3200 farmers to audit their farming activities, to the great support provided by the online weekly training of the RA Uganda team. We should also note the central role of facilities' sub-contractors, such as dry mills, that quickly became convening centers to raise awareness amongst farming communities about the registration process and the value of selling sustainable coffee. The cross-learning relationship established with the certification body, also made the process smoother and more effective.
On Touton's side, we combined the diverse skillsets of agronomists and zone officers with the knowledge of over 60 data experts. On one hand, we demonstrated our capacity to coalesce the Kasese supply chain and lead the collective efforts, by engaging stakeholders and building capacity, for example with training material like facilitators' guides and passbooks for farmers. On the other hand, we leveraged our data science and digital expertise, developing new dedicated applications to swiftly meet the new standard requirements in terms of farmer registration, points of mapping, polygons, and traceability.
We are proud of this first achievement and confident that this is only the beginning of the journey! The potential to build larger and more diverse sustainable value chains, not only for coffee but also for cocoa, vanilla, and other spices in the region is vast. We intend to use the collective know-how we have acquired through this new process to turn Kasese into a virtuous and resilient farming hub in Uganda.