New research to boost Ugandan coffee farmers' resilience
Data collection is on!
Since March 2021, data collection from Ugandan coffee producers is on-going in the Rwenzori. Our team of young enumerators from the coffee communities are now interviewing farmers with both quantitative and qualitative surveys about their current farming practices and revenues. Producers are positive and enthusiastic about the initiative and keen to benefit from the results to boost income diversification strategies. This new research partnership is still in the early early stages, with only 20% of the surveys conducted, but we are already seeing promising insights emerge.
Led by Touton Uganda and the International Institute of Tropical Agriculture (IITA), with the support of the Sustainable Food Lab and USAID, the research partnership strives to find concrete diversification strategies to improve coffee farmers economic and climate resilience in Uganda. Since November 2020, the project team has been working to collect data that will help distinguish the most actionable on-farm income diversification strategies, based on the unique profiles and farming processes of Arabica coffee producers in Kasese district, Western Uganda.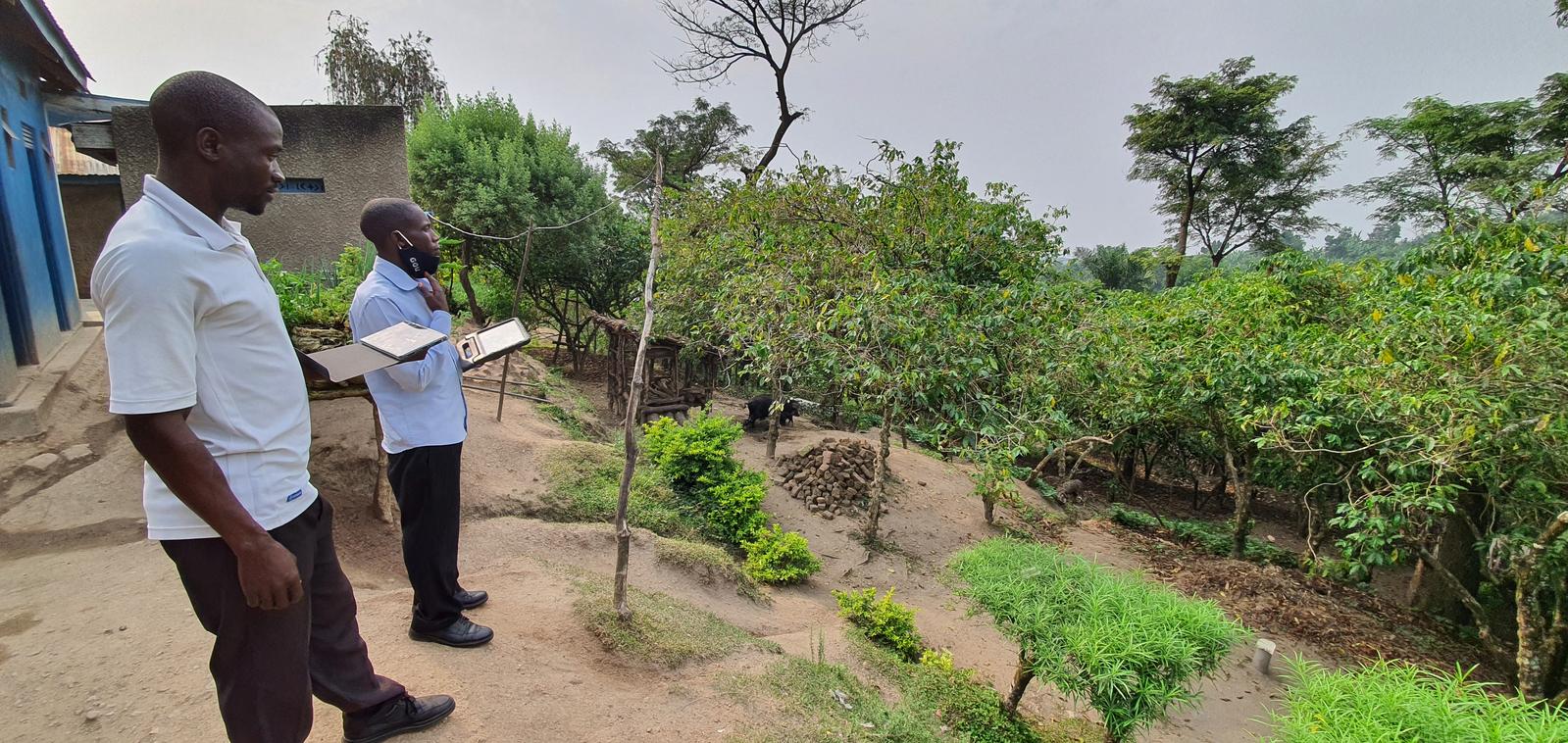 Specific objectives of the research include detecting obstacles and opportunities for crop diversification that will accommodate different profiles of Arabica smallholder producers, and to pinpoint concrete strategies for boosting the adoption of good agronomic and agroforestry practices by producers. Initial findings from the surveys suggest that:

• About 60% of coffee household farmland is used for coffee farming in the Rwenzori region of Uganda, with most farmers owning a single coffee garden, with an average of 320 coffee bushes. Coffee farms are relatively small with limited opportunity for expansion in this enclaved landscape between the neighboring Queen Elizabeth National Park in the lowlands, and the Rwenzori national park that separates Uganda from DRC. Small farms translate into small production and a fragmented supply chain.

• Almost unanimous observations that the meteorological conditions are evolving, with longer dry periods, heavier and shorter rains. Coffee trees in the area are generally over 25 years old, with only a minority of producers engaging into rehabilitation activities such as stumping and replanting. We can anticipate that the combination of these factors has a negative impact on coffee production, which, according to respondents, has decreased over the past year. These early findings support the urgency to sensitize producers about engaging in regenerative agriculture practices in their gardens.

• Demand from coffee farmers for technical extension is high, specifically to address decreasing yields. This combination of low productivity on small farms, with few investments, leads to a poverty cycle. In turn, farmers are increasingly interested in crop diversification solutions to increase their income.

• Farmers already have some level of existing crop diversification - either intercropped with coffee or within dedicated gardens. However, these strategies appear to remain "ad-hoc", which provides an opportunity to support farmers agronomically to improve the potential of all crops.

• Respondents have shown enthusiasm towards this research and for the support Touton and IITA aim to provide in the Rwenzori region.

Such results and positive attitudes are highly encouraging for the forthcoming rounds of surveys and interviews due to take place in the coming weeks. With 357 Rwenzori farmers interviewed by the end of the process, official results should allow research partners to develop key recommendations for the targeted adoption of Climate-Smart Agriculture practices, agroforestry, and crop diversification. Such recommendations will hopefully unfold into concrete testing that will boost coffee farmers' living income, making them more resilient, economically and towards climate change.