Coffee & vanilla for regenerative agriculture in Kasese (UG)
Touton is proud to co-invest with IDH and IKEA foundation for the Coffee Farmer Income Resilience Program in Uganda. Leveraging on our multicrop know-how and extensive trading capacities, Touton will engage 5000 smallholder coffee farmers - who also grow cocoa, vanilla, and birds 'eye chilies - to foster diversification for income resilience and transition their farm systems towards regenerative agriculture.
The difficult coffee growing context make it complicated for smallholders in the Kasese district of the Rwenzori region to secure decent income from coffee farming. With small coffee farms - on average less than one hectare per family - and ageing tree stocks, opportunities for economies of scale are scarce. Left without land or work, young adults leave rural areas to seek employment in cities. More frequent and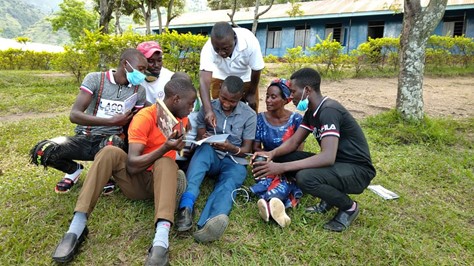 intense floods or droughts caused by climate change, add to the negative impact of poor infrastructure and low access to finance that prevent boosting yields and improving revenues.
As a solution, 1/3 of growers' families in the region, turn to other sources of income, such as livestock or intercropped agricultural goods, including banana, cocoa, avocado and vanilla. However, our research shows that most producers embarking on vanilla production are also reporting flower abortion and low yields. In turn, producers who have bet on other crops such as cocoa or chili, do not have access to good post-harvest practices, which is also affecting the quality and safety of the goods and access to consistent market to sell their produce.
To remediate to these issues, the Coffee Farmer Income Resilience Program adopts a holistic approach, with a focus on providing equal access to both agricultural trainings and services for coffee and other crops. We aim to deliver technical training on crop production and regenerative agriculture to 5000 smallholder Arabica coffee farmers, including 1/3 of women, 2000 of which will also grow vanilla and 1000 other crops such as bird's eye chili pepper and cocoa.
To complement and really uplift the adoption of these newly acquired technical skills, Kasese producers will also benefit from an innovative independent network of service providers, called Agripreneurs. Harnessing the entrepreneurial culture of young Ugandans, and providing self-employment opportunities, we seek to attract local men and women to offer professional, affordable, and qualitative services to farmers such as access to inputs, planting material for coffee plants rejuvenation and intercropped production, or agronomy services including soil testing. Thanks to partnerships with creative startup offerings, Agripreneurs will also offer financial and crop insurance services (by OKO) for improved resilience against economic or climatic risks.
Another game changer for coffee producers in Rwenzori will focus on improving the supply chain structure. Our program will support the setup of organized producers' groups, translating into easier logistics, better quality control and ultimately into sustainability certifications, to become synonymous with market price premiums and improved living income.
A single supply chain structure also allows Touton, a historical trader of coffee, vanilla, cocoa, and bird's eye chili pepper, to buy non-coffee crops from Kasese growers and facilitate the transition towards intercropped production models. Regenerative agricultural farming principles are necessary to maintain and improve the soil conditions on the slopes of the Rwenzori and to maintain rich and diverse biodiversity. We expect at least 3000 farmers to engage in growing and selling multiple crops beyond coffee farming. These activities will in turn promote further business opportunities for Agripreneurs to offer new services specific to those crops.
To build the best enabling environment for crop diversification, the program will set up infrastructures at the beginning and at the end of the crop cycle. Upstream, we will establish a central nursery to supply (at a fee) seeds, seedlings, and vines to several other nurseries, led by farmers and Agripreneurs. Downstream, to ensure the produce meets international customers' quality and food safety specifications, a central drying station will be assembled as a model for community-based drying stations for coffee, cocoa, and chillies, empowering farmer groups and creating greater engagement.