Announcing new Cocoa Trading Director & Group Deputy MDs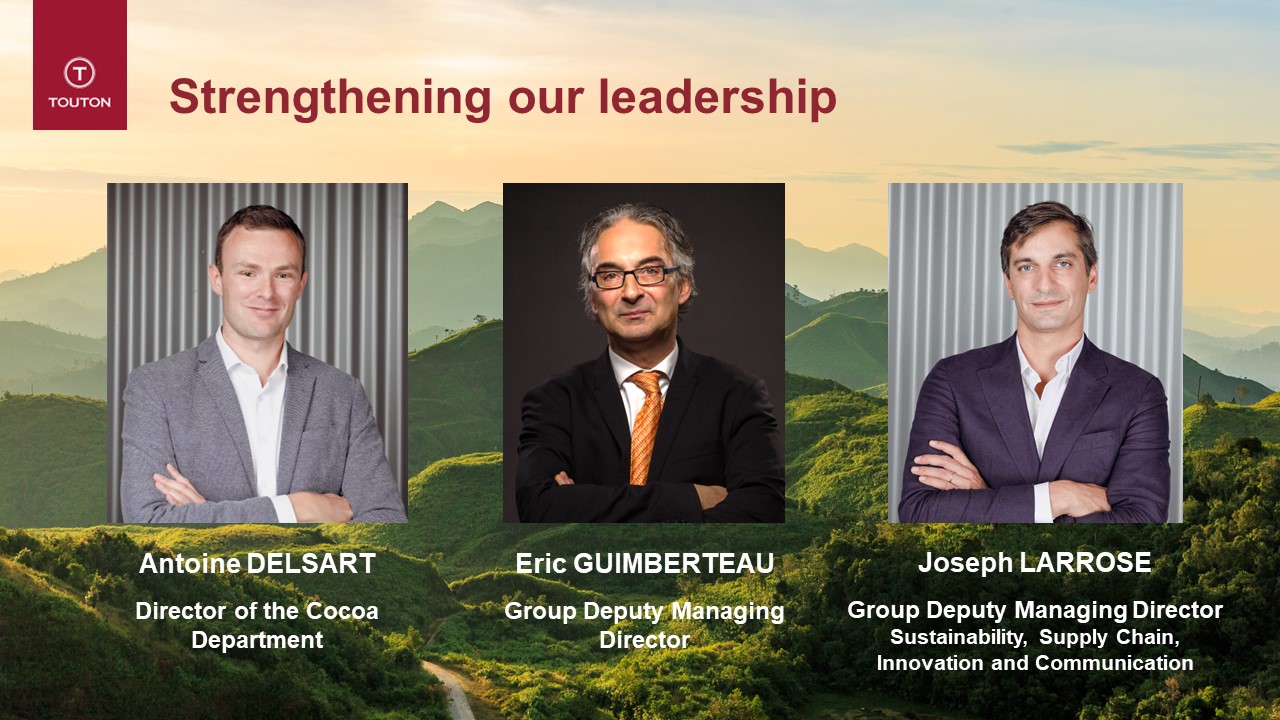 Our operating environment is transforming deep and fast across all tropical agricultural commodities supply chains. To effectively respond to these new challenges, we are strengthening and developing our leadership team. We intend to further embed sustainability and innovative approaches within our strategic and top managerial processes. We are infusing the energy and creativity of new proficient talents to complement our historic expertise and lead our development.
Under the leadership of Mr. Patrick de Boussac, CEO, and Mr. Olivier Lieutard, Deputy CEO, Eric, Joseph, and Antoine will bring novel perspectives into our core operations.
Eric Guimberteau has been with Touton for more than thirty years. He worked in cocoa trading in Singapore throughout the 1990s and took part in our adventure with grain trading in 2006. He then returned, in the early 2010s to Touton's headquarters in France to head the Cocoa Beans department, which he and his team, led to the success we know today.
Eric will remain strongly involved within Touton with project-specific responsibilities and providing strategic advice related to our cocoa business.
Joseph Larrose is the architect of Touton Group's sustainable sourcing, a pillar of our business model. For the past 12 years, he has assembled and managed an international team of 150 experts to deliver impact-led sustainability programs and accelerate the digitalisation of our sourcing operations.
In his new role, Joseph will guide and oversee our supply chain operations and services across all the commodities traded by the Group (cocoa, coffee, and ingredients), ensuring they meet the highest level of compliance, sustainability, and quality. He will lead the innovation strategy across the Group's processes and business units.
Antoine Delsart brings more than 10 years of experience within the Group, with expertise in cocoa and coffee trading activities in various regions. As Director of Touton Far East in Singapore, he successfully led the trading and execution team through the pandemic and freight crisis, whilst developing innovative targeted solutions to meet global customers' supply challenges. Back in Bordeaux, he has been preparing to take on his new responsibilities, in close collaboration with the cocoa team and Eric Guimberteau, former Director of the Cocoa Department.
Antoine will now lead all the different functions of the Cocoa Department as in Trade, Middle and Back office, Freight and Logistics as well as Research.
We invite you to join us in congratulating Eric, Joseph, and Antoine for their new positions and wishing them all success.